Microwave Power Meter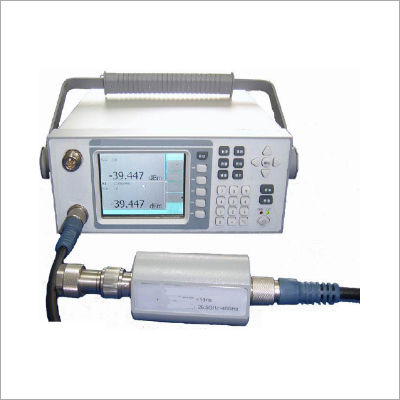 Microwave Power Meter
Product Description
Owing to our wide-through expertise in the telecom & networking sector, we are engaged in manufacturing and supplying Microwave Power Meter. This meter is suitable for the measurement of high-power pulse modulation signals along with narrow pulse modulation signals. Our offered Microwave Power Meter is composed of serial power and main unit sensor, With the application of microwave diode detection technology, multidimensional compensation technology and digital signal processing technology.
Features:
Large dynamic power range
Sensor serialization
Automatic offset calibration function

Accurate power measurement
Further Details:
This product is composed of microwave power meter main unit and serial power sensor, adopting embedded computer and embedded operating system integrally with application of microwave diode detection technology, digital signal processing technology and multidimensional compensation technology, which offer the instrument such characteristics as broad frequency band, large dynamic power range, sensor serialization, high precision, quick measurement and analysis and convenient operation. It is mainly used for the measurement and metering of average power, peak power and pulse envelope power of microwave signal, and also can be used for the measurement of high-power pulse modulation signal and narrow pulse modulation signal. It is an important measuring instrument for development, production, acceptance and maintenance in the fields of radar, electronic countermeasure and communication.

Main Features:

With accurate power measurement function of continuous wave signal, single sensor in dynamic range of 85 dB

Available in measurement and analysis functions of various envelope parameters of microwave and millimeter wave pulse modulation signal, such as: peak power, pulse power, average power, overshoot, rise time, fall time, top amplitude, bottom amplitude, pulse width, pulse period, duty ratio, closing time and pulse repetition frequency

Offering extended measurement function of high-power pulse if provided with high-power attenuator or high-power directional coupler to offer

Available in automatic offset calibration function

Available in automatic capture measurement function

Available in rise/fall edge trigger and internal/external trigger function

Available in CCDF statistical measurement and analysis function

With color LCD display

Available in storage/recall function

With GPIB and LAN program control function to meet modern communication needs.
| | |
| --- | --- |
| Frequency range | 10MHz~40GHz (depends on power sensor ) |
| Power range | -65dBm~+20dBm (depends on power sensor ) |
Contact Us
No. 1-3-1026 & 1027, Near Hotel Marriott, Kavadiguda, Secunderabad, Telangana, 500080, India
Phone :+918045803620