Vector Network Analyzer 300 KHz to 3GHz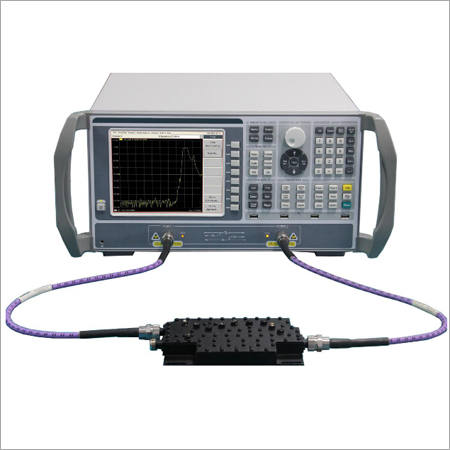 Vector Network Analyzer 300 KHz to 3GHz
Product Description
Years of scientific research and production experience have enabled us in manufacturing and supplying Vector Network Analyzer. With improved technology in perspective of measuring speed, measurement stability and dynamic range, this equipment provides better solutions then any other available in the market. Our offered Vector Network Analyzer is equipped with hardware such as embedded computer system with Pentium chip and windows operating system, that provides high functionality and accuracy.
Features:
Easy error correction
Available in multi-channel display
One-button operation
Further Details:

WT30003G Vector Network Analyzer is a new generation of products and also an update product based on many years of scientific research and production experience in vector network analyzer. Compared with the former generation, it improves much in measuring speed, dynamic range and measurement stability.
In terms of hardware, brand-new technology has upgraded key performance indexes (KPI) of complete machine much better than before; in terms of software, embedded computer system (ECS) with Pentium chip and Windows operating system have greatly improved interconnectivity and easy use of complete machine.

WT30003G Vector Network Analyzer with a powerful measuring function: can complete the vector network analysis in such fields as wireless communication, cable television, education and automotive electronics, and can be used for the performance measurement of radio frequency (RF) elements such as filter, amplifier, aerial, cable and cable television tap.
It has Windows operating system and error correction and time domain functions; provides many display formats such as logarithmic amplitude, linear amplitude, standing-wave ratio (SWR), phase, group delay, Smith chart and poplar coordinates, etc.; provides many calibrations including frequency response, single port, response isolation, enhanced response and full two-port calibrations; has Windows operating platform and LAN functions and is available in multi-channel display; is provided with several kinds of interfaces including USB interface, LAN net mouth, GPIB interface, standard parallel interface, VGA interface and color LCD. It can quickly and precisely test DUT on the amplitude of S-parameter, phase and group delay with efficient and strong error correction capacity.
Features
As high as 90ms measuring speed (at sweep points: 201, IF bandwidth: 30 kHz, display update status:ON) will greatly improve the efficiency of production and scientific research.

75Ω test port impedance option is available for measuring cable television elements.

Trace noise of 0.005dB renders the network analyzer a higher measuring accuracy.

One-button operation can greatly simplify the setup procedures to improve work efficiency.

Provides as many as 64 independent measurement channels and quickly executes complex test plan.

With as many as 32 display windows and each window displays 8 traced curves simultaneously.

With time domain analysis function.

With LAN, USB, GPIB, standard parallel interface and VGA display interface.

Various display formats, such as amplitude, phase, group delay, Smith chart, polar coordinates and standing-wave ratio (SWR), etc.

Windows XP operating system.

8.4 inch true color high resolution LCD, simultaneous multi-window and multi-channel display.

With 115dB dynamic range that enables it to make an accurate measurement of high suppression filter.

Frequency Range: 300kHz~ 3GHz
Contact Us
No. 1-3-1026 & 1027, Near Hotel Marriott, Kavadiguda, Secunderabad, Telangana, 500080, India
Phone :+918045803620